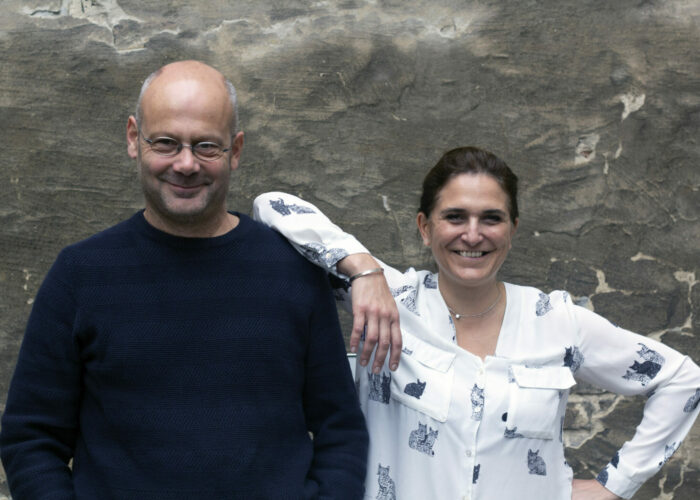 OFFICE PROFILE
Wilk-Salinas Architekten was founded in 2004 in Berlin and is run on a partnership basis by German architect Gilbert Wilk (Chamber of Architects, Berlin) and Spanish architect Ana Salinas (Chamber of Architects, Berlin and Madrid) in keeping with the motto "bringing magic into being".
Based in the district of Berlin-Kreuzberg, Wilk-Salinas Architekten employ a permanent team of seven internationally experienced architects. The office is equipped with ten CAD-work stations and numerous printing facilities. Many projects are and were successfully implemented in collaboration with other planners and creatives such as:
– Architects: CPM Architekten (Berlin), blauraum Architekten (Hamburg), Menis arquitectos (Tenerife), Ruiz Larrea & Asociados (Madrid)
– Artists/Designers: Serein Konzeptkunst & Mikroarchitektur (Berlin), Prof. Susanne Lorenz (Berlin), Yoraco Gonzalez (Berlin/Caracas)
– Landscape architects: Häfner Jiménez Betcke Jarosch Landschaftsarchitektur (berlin),  JUCA architektur+landschaftsarchitektur (Berlin), Fugmann Janotta Partner Landschaftarchitektur (Berlin)
Furthermore, Wilk-Salinas Architekten have well-established and ongoing collaborations with numerous other professionals from diverse trades.
Gilbert Wilk and Ana Salinas met on Tenerife where, at that time, they were both working for AMP arquitectos, albeit in different areas of responsibility: Wilk in the position of office manager, and Salinas amongst others as construction manager of the project Magma Centro de Arte y Congresos. They immediately liked each other, appreciating the individual strengths and competences of the other. One of the first outputs of this promising encounter was the fact that they decided to work together entering architectural competitions. Encouraged by these experiences, they decided to one day join forces in realising a "big" project.
During their work phase at AMP arquitectos, Spanish architect Fernando Menis not only became an invaluable mentor, he also became a close friend of theirs. His philosophy regarding sustainable, cost effective, and adaptable architecture which coalesces with the natural elements of urban landscapes has remained a crucial guiding line in their work to this day. In alignment with this credo, Wilk-Salinas Architekten have specialised on the creative-functional development of listed buildings and areas.
Following the completion of the internationally acclaimed and crowd pulling Badeschiff in 2004, a floating open-air swimming pool made out of a converted barge situated on the river Spree in Berlin, conceived and realised by Gilbert Wilk and his team from AMP arquitectos in collaboration with the artist Susanne Lorenz, Wilk was commissioned by the owner to develop a concept for the usage of the Badeschiff in the winter.
This point marks the birth of Wilk-Salinas Architekten, as Gilbert Wilk managed to persuade Ana Salinas to move to Berlin in order for them to work together on developing what became the Winterbadeschiff and establish their own architectural studio. A wise decision as it turned out. With the completion of the award-winning Winterbadeschiff in 2005, Wilk-Salinas Architekten successfully entered their path of realising innovative and much acclaimed projects in which, amongst others, the transformation of existing architectural structures is taken to a different level adding a new and innovative quality to the urban context. Examples of this are projects like:
– Battersea (London): The conversion of a harbour pier into a hovering recreational area
– White Trash Fast Food Club (Berlin): Transformation of an industrial hall into a music venue
– Sea Flower (Dubai): Floating sports club at the Dubai marina
– Liesenbrücke (Berlin): Transformation of a historic railway bridge into a boutique hotel.
As a rule, the projects are realised in existing building stocks, more often than not in combination with urban heritage conservation regulations. In all of their projects, Wilk-Salinas Architekten retain a sharp focus on sustainability aspects as well as cost-effeciency.
In accordance with their respective backgrounds, Wilk-Salinas Architekten hold a special position within the Spanish-German architecture scene. Ana Salinas is the official representative of the Madrid Chamber of Architects in Germany. And Wilk-Salinas Architekten hold a leading position when German-Spanish building projects within the segment of urban heritage conservation are being planned and realised. In December 2017, Wilk-Salinas organized the Berlin-Madrid Symposium.
SHAREHOLDERS
Gilbert Wilk, Dipl. Ing. Architekt BDA (RWTH Aachen) und Ana Salinas, Architekt BDA (ETSAM Madrid)
PROFESSIONAL DESCRIPTION
The architects Gilbert Wilk (membership number 12419) and Ana Salinas (membership number 12130) are members of the Berlin Chamber of Architects, Alte Jakobsstrasse 149, 10969 Berlin, T (030) 29 33 070, kammer@ak-berlin.de, www.ak-berlin.de.
STEUERNUMMER
Umsatzsteuer-Identifikationsnummer DE 302 066 763, Finanzamt Friedrichshain-Kreuzberg
PROFESSIONAL LIABILITY INSURANCE
AIA/EUROMAF S.A., Niederlassung für Deutschland, Kaistrasse 13, 40221 Düsseldorf, Nummer des Versicherungsscheins 036966
COPYRIGHT
All contents such as photos, graphics and texts are protected by copyright. Any use, even in part, requires prior permission. If you would like to use content from our online offer, please contact Wilk-Salinas Architekten.
DISCLAIMER
Despite careful control of the content, no liability is assumed for the content of external links. The operators of such links are solely responsible for their content.
ADDRESS
Wilk-Salinas Gesellschaft von Architekten mbH
Headquarter:
Kurfürstendamm 66
10707 Berlin
Second office:
Schlesische Str. 12
10997 Berlin
T +49 30 6162 8960
F +49 30 6162 8959
mail@wilk-salinas.com
HUMAN RESOURCES